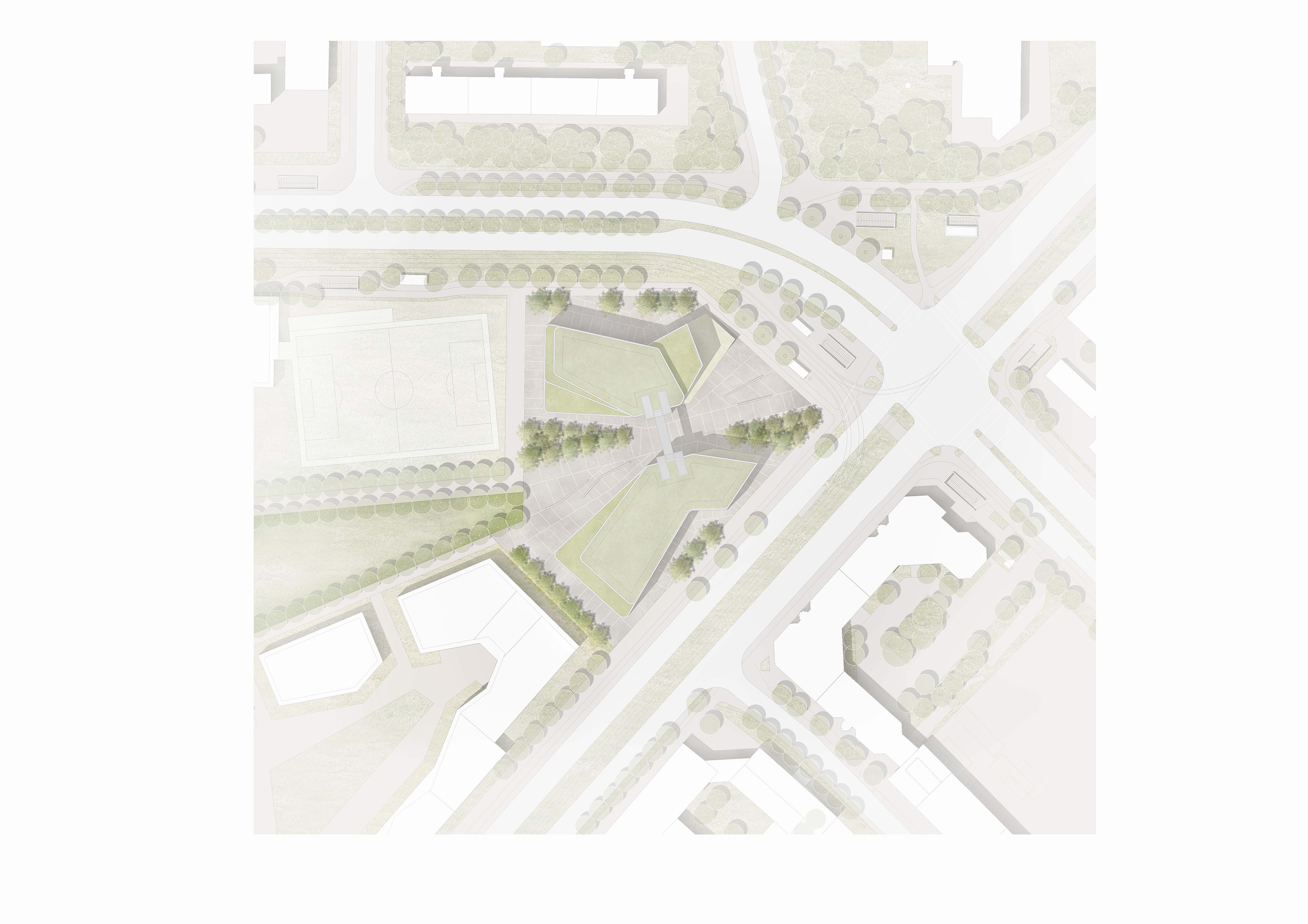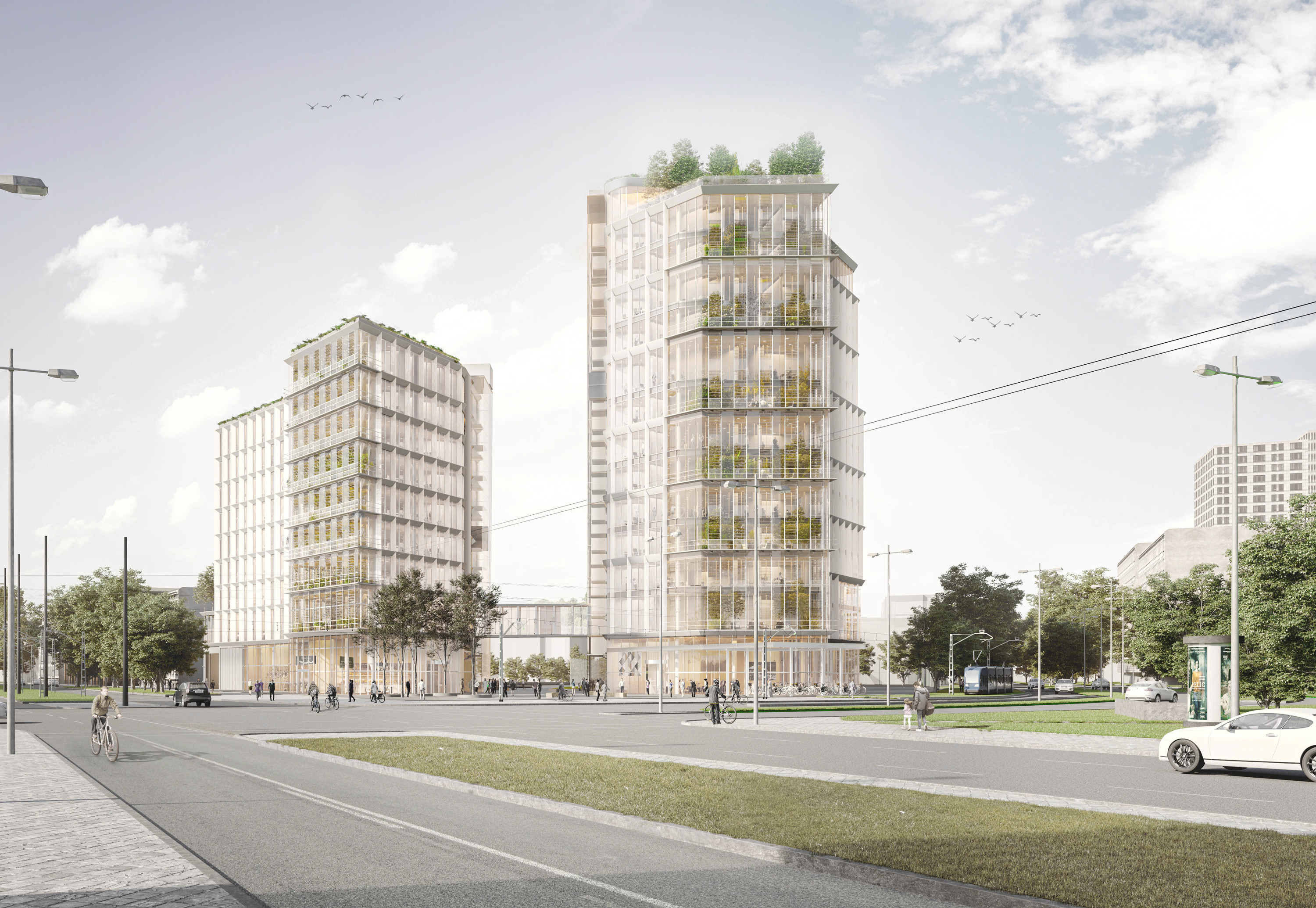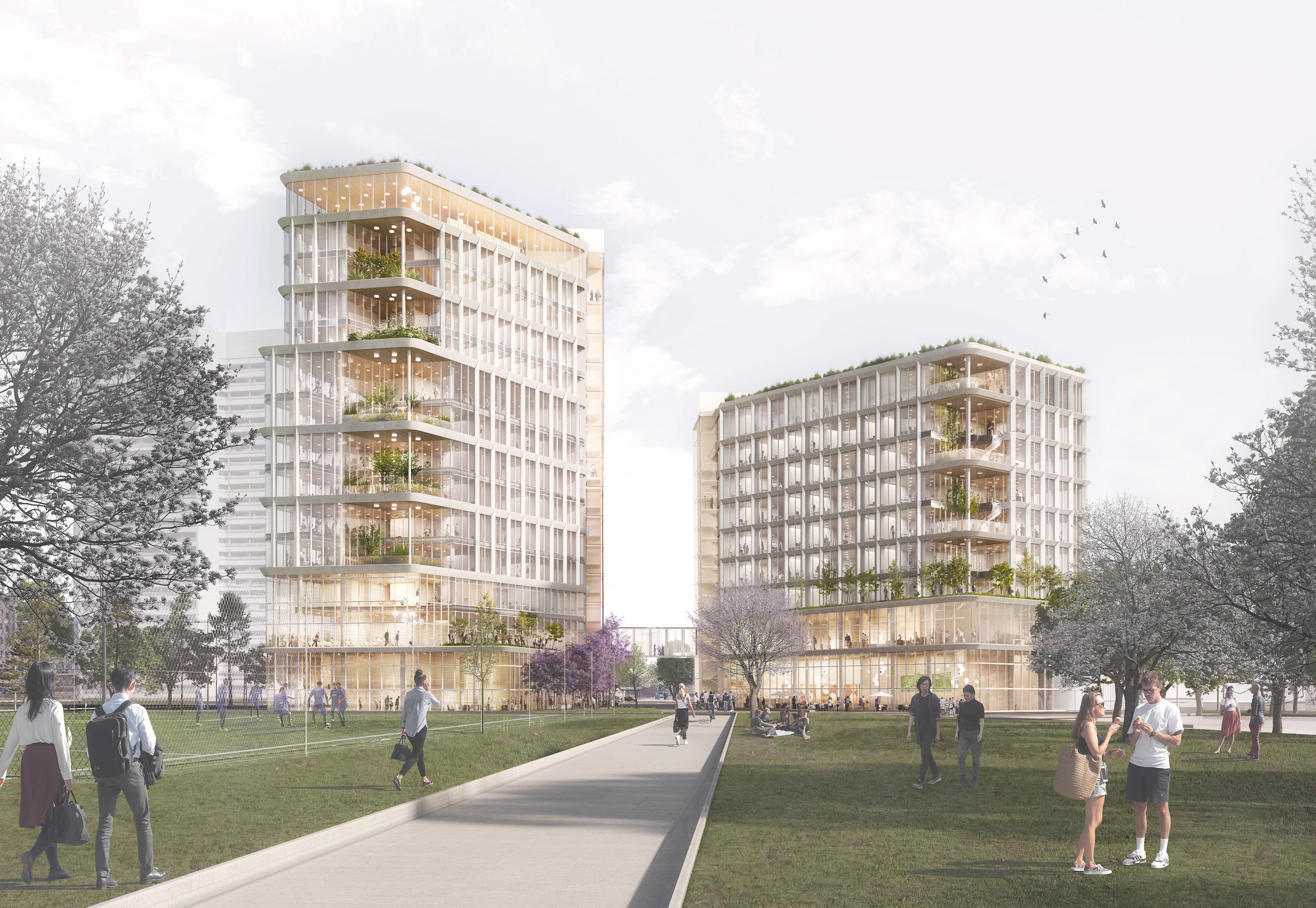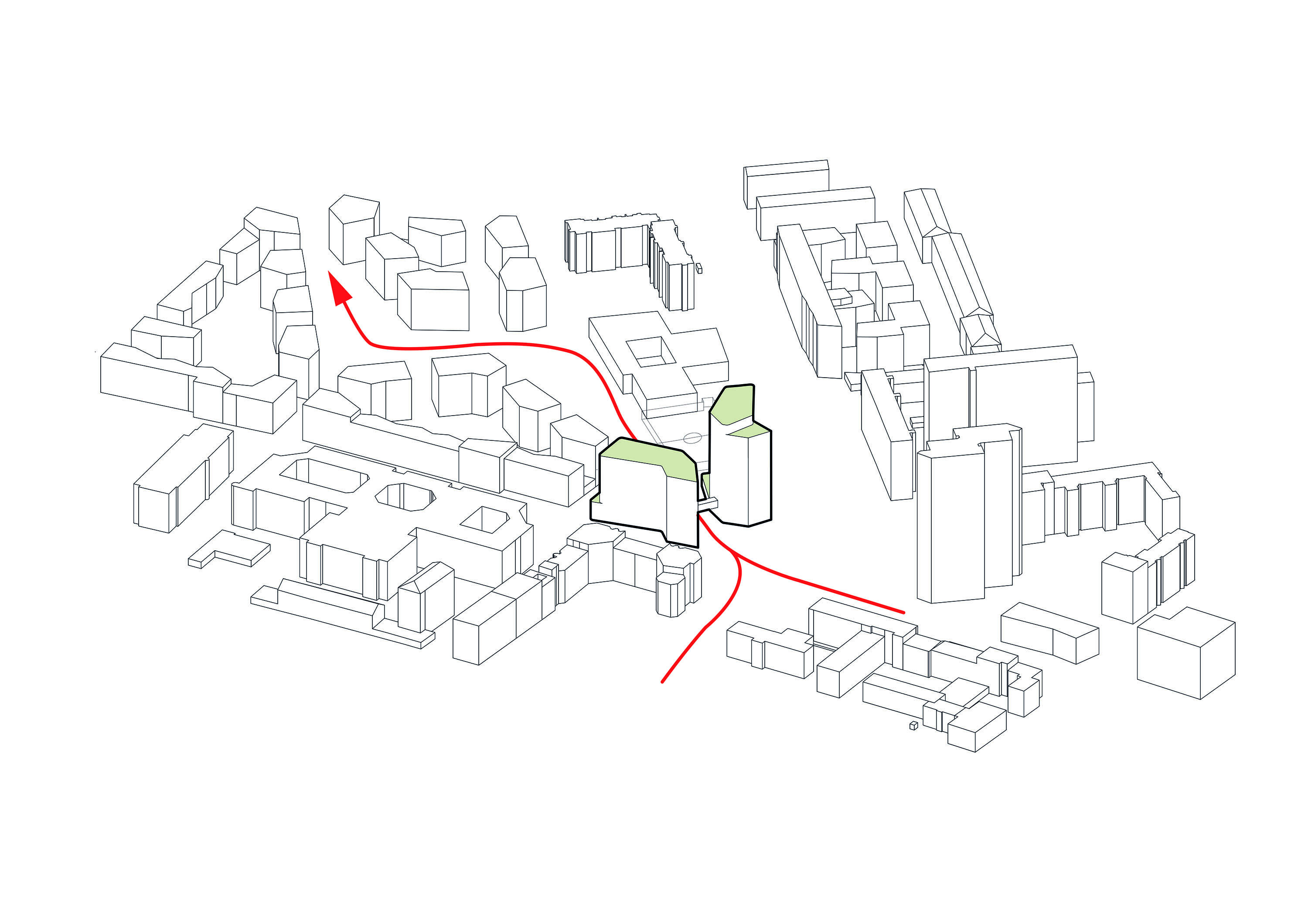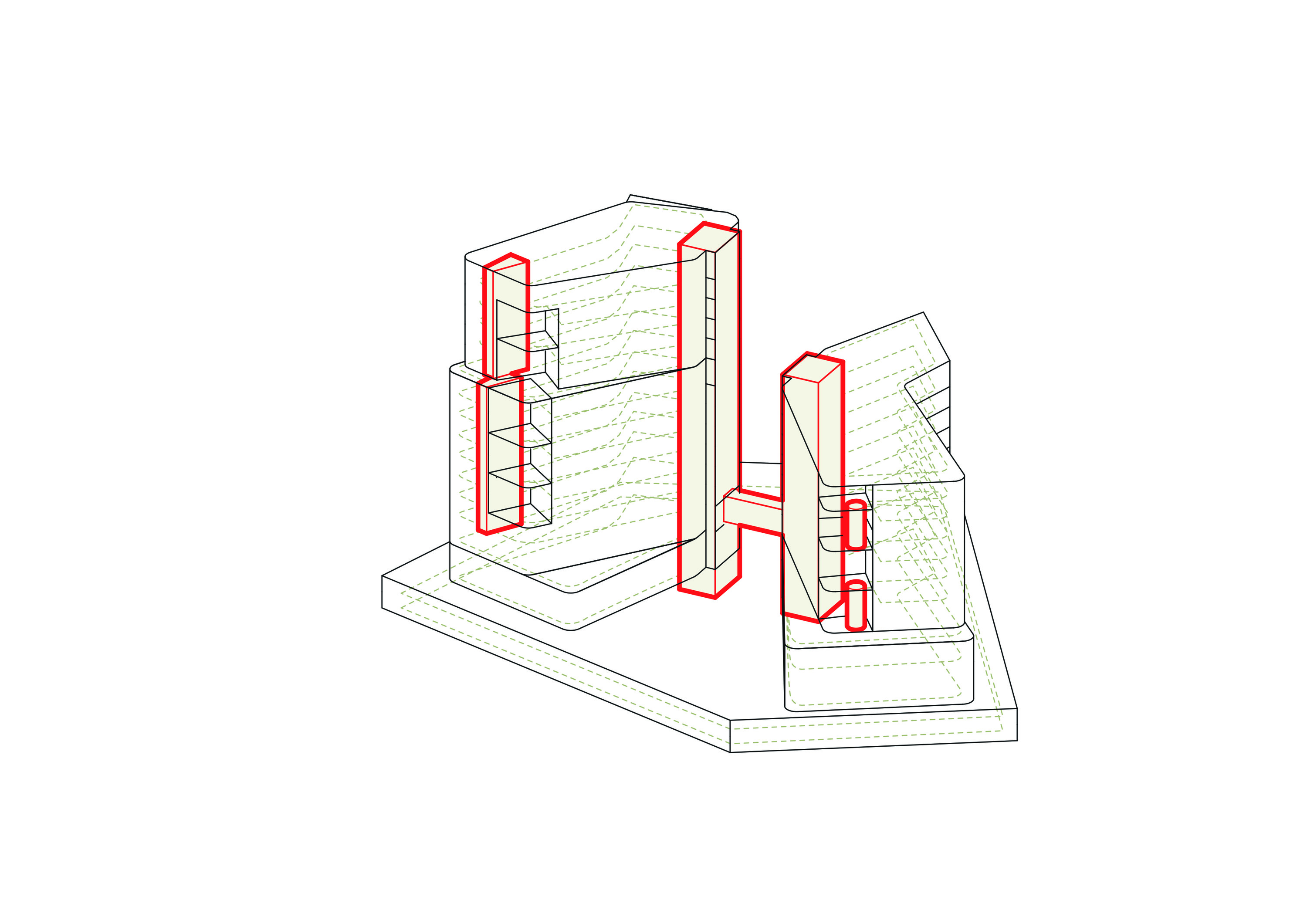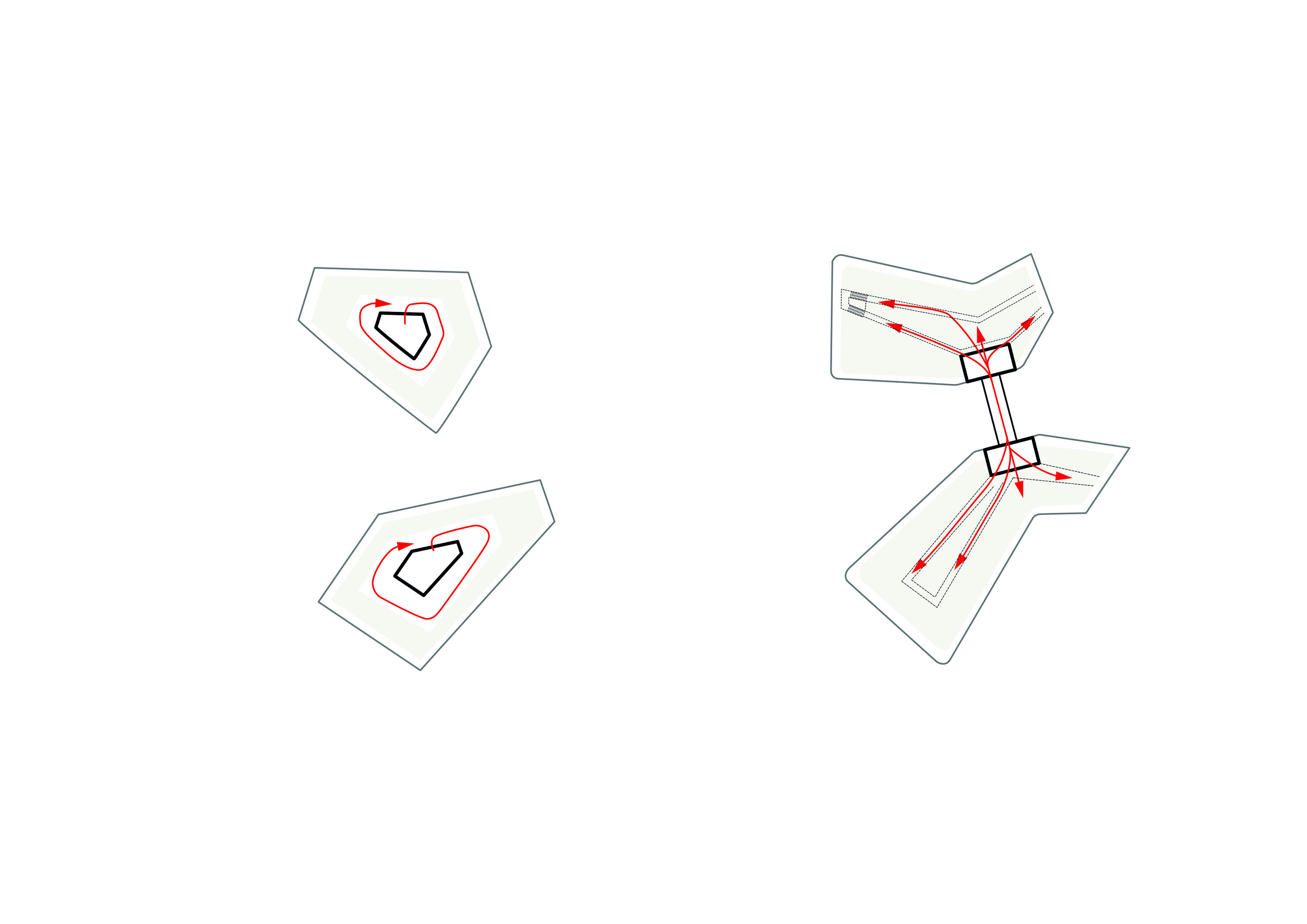 2 Towers in Munich
Competition by CroMe Studio
At the junction of two major roads and in front of a public transport interchange, the project forms the entrance into the new Westendstrasse/​Zschokkestrasse residential district.
The two buildings of the masterplan constitute an ensemble for a single user. Placed on either side of the visual axis that connects the crossroads to the new park at the centre of the district, the two small towers, 40m and 60m high respectively, play on tension and distortion. Their off-centre cores on the façade, like vertical spines, move closer, while their curving forms separate like the wings of a butterfly, opening up distant views and providing changing perspectives, thus creating a hierarchy of exterior spaces between city and park.
The office floors are single-storey for the lower tower, and two-storey for the second tower, which is higher but narrower. Each floor plate is full depth, flexible and bathed in light, with access to an external loggia and a semi-exterior wintergarden. This space acts as a place for improvised encounters, as do the generous stairways and lift lobbies. Shared services such as a fitness centre, auditorium, events room and cafeterias are distributed throughout the floors and connected to large terraces, which encourage socializing between users, putting people at the heart of the project.
The facades are formed by amply glazed modules, framed by asymmetrical embrasures. They play a role of protective envelope while providing vibrancy and animation, orientating the gaze towards the distant views.
Designed with a hybrid structure (wood /​concrete), natural ventilation, planted terraces, solar panels on the roof and façade, and maximizing natural light, the project is climatically neutral thanks to devices that are passive or low-tech in their functionality.
Programme: Offices partly open to the public, retail, restaurants, day center for the elderly, parking, mobility station | Client: Stadwerke München | Area: 25'000m², height 40 and 60m | Architects: CroMe Studio (Paris), in collaboration with Aldinger Architekten (Stuttgart) | Landscaping: Terrabiota | Engineering: Peter und Lochner Ingenieure | Sustainability: ee concept | Fire security: Häberlen Brandschutz | Images: Lemonsbucket | Date: January – March 2021 | Location: Westendstrasse/​Zschokkestrasse Munich, Germany